Yay I have finished one whole sock! And very proud of it I am too.  Turning the heel was fine and actually much simpler and more logical than you might think, although there was a bit of picking up stitches after the heel which I hate.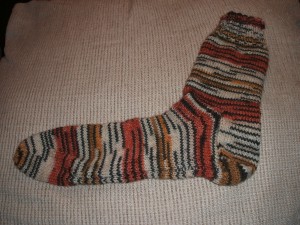 It does look rather a funny shape as the foot is very long but then again I do have rather large feet (size 8).
Full detials of yarn, pattern etc can be found over on Ravelry
I did have to wonder to myself last week why I was knitting socks during the hottest week of the year.  Hmm, there wasn't a sensible answer to that one…
Work is well underway on its twin, which is coming along nicely.