I've been to the most beautiful tea shop imaginable this week.  Caveman and I spent a few days in Cambridgeshire and I was desperate to go to the Orchard Tea Garden in Grantchester.  As a fan of Rupert Brooke and tea it was a joy!  Beautiful location, fascinating history, yummy cream tea, swarms of wasps… oh yes wait, that ain't so good but the wasps are another story entirely!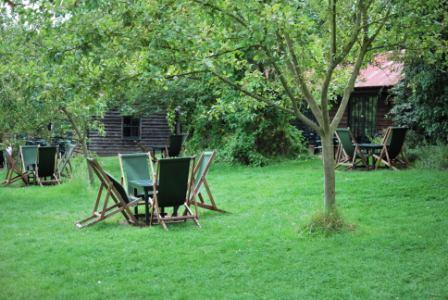 The Orchard also has the Rupert Brooke Museum with lots of mementos, cuttings and pictures of him and those around him, particularly from his time in Grantchester.  Although small, there is lots of information there, including his death in Greece.
And then there was the tea!  I have to admit I was rather influenced by the romance and history of the place so they could have served me tepid, dirty water and a rock and I would have been happy.  Despite that I can honestly say the cream tea was delicious.  Massive homemade scones, a big pot of tea, real butter and strawberry jam.  Ok, so I didn't have honey but that's a minor detail.  Until I have the chance to return, I shall dream happy dreams about Grantchester; unforgettable, unforgotten.