It's only been one week since I learned to crochet but I've not stopped since!!
I finished the first granny square and then made another 3, and even took yarn and a hook with me when I was on holiday this week!  Although the colours and yarn combinations below aren't necessarily the best, I am rather pleased with the results. 
As I liked the granny squares so much, and think they could be very versatile, I bought a great book called '200 Crochet Blocks for blankets, throws and afghans'.  It is full of great combinations of stitches, colours and patterns with ideas on combinations of squares that work well together to create a full project.  Each pattern has a rating of difficulty which helps too, and all the blocks should come out the same size so can be easily combined.
I chose a fairly simple pattern to start with and got going and I'm really pleased with the results. I've got lots of things I want to make the squares into and plan to start scarves and cushion covers initially.  I also plan to try a more lacy pattern next.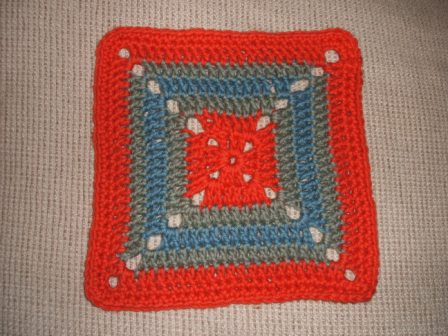 Squares and blocks will be a great way to use up small scraps and balls of yarn left over from other projects so I'm looking forward to using up some of my stash, but I must tryvery hard to use colour comibinatons tastefully!