I have spent today at a crochet workshop at Fibre and Clay in Knutsford and I think I got over my hurdle of where to stick the hook (so to speak!!).  Sarah Hazell was the tutor and there were 9 lovely ladies all keen to get to grips with hooks instead of needles.
We started off with a crocheted coaster which gave us practice in the main stitches and how to follow a crochet pattern.  This started off a little tricky as I just couldn't work out how to hold the hook and yarn properly as my insitinct is to do this in a simialr way to knitting.  However, I am pleased to say I started to learn my double crochet from my half trebles and the result is here: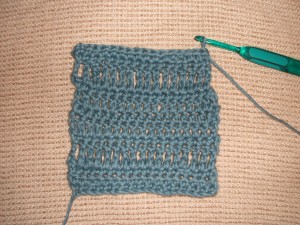 I just have one more row to finish the pattern then it will be ready to hold a lovely cuppa.
After (a lovely) lunch we started on granny squares which are something I have long been keen to do.  After just the first round I 'got it' and was in happy frou-frou world where I could just get on with it.  I started thinking of all the lovely things they could be used for and the yarn I have squirelled away that I could use to make them.  I am very pleased with the results of my first granny square and I may well finish it and start another before the day is out.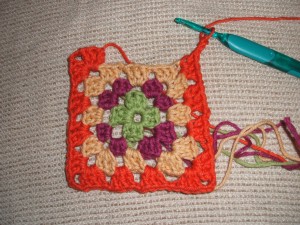 I think I'm hooked!!  (Sorry, had to use that line).  There's something about crochet that I find much more logical and sensible than knitting and I think it may be more versatile in terms of shape.  I'm off to Cambridgeshire tomorrow for a few days and likley to have crochet in my pocket this week instead of knitting.   I'll report back soon with my achievements (even if that's just lots of granny squares!)
Many thanks to Sarah and everyone at Fibre and Clay today for a great day.