As if I hadn't had enough yummy tea and cake this week we decided to go to the Sweet Tooth Cupcakery in Chorlton this afternoon.  Wow, what a selection of cupcakes!!  Most of the cakes have celeby names,  including Dita Von Teese, Kylie and Quentin Crisp.  The shop has a cute and quirky 1950's interior including Formica tables!
As the shop was quite busy we chose a few cakes to take home, in a box tied up with ribbon, where Caveman produced the most beautiful tea set and we had tea in the garden!!!   We had (clockwise from top left below) a Kylie, Priscilla Queen of the Desert, Mint Royale and a Barbara Windsor, which was my personal favourite as I just love lemon.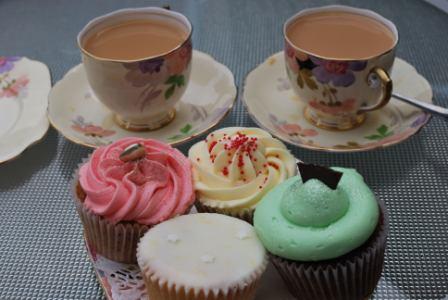 The cake was light and fluffy and tasty with rich, sweet icing.  Kylie and Priscilla had raspberries through the sponge which was really yummy! 
And just 10 minutes later it was almost like they'd never been there…