There are several kids in my life (none of which are my own I will add) and kids love things with their names on then. I am sure its a way of having a little control and identity in your life when so much of it is governed by others, or maybe that was just me. 
Anyway, back to my point!  To date when I've wanted to make peronalised things I have drawn letters in a haphazard way which turned out kind of OK, as shown on this bag I made for Lucy, but not the prettiest.  I can make, sew, knit, glue, crochet, hammer, felt etc but don't ask me to draw or write anything by hand.  So I needed a plan!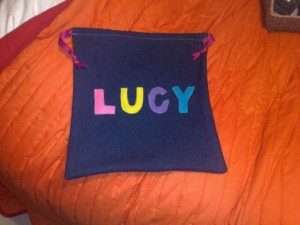 I decided to choose an appropriate font, blow it up, laminate it and cut out the letters to use as templates.  It wasn't ideal for two reasons 1) the letters took  a g e s to cut out so my hands hurt really badly and 2) even laminated, the letters are quite thin so not the easiest to draw round as templates. 
However, I love this curvy, chunky font, which is Cooper Black in 200pt so each letter is around 5cm / 2 inches tall.  I think it will look great in felt and bright colours for kids, or even on a laundry bag for us grown ups saying 'smelly socks'.