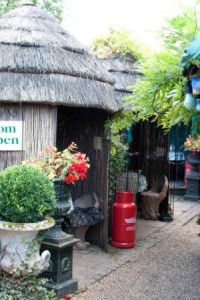 Caveman and I spent a jolly afternoon at Willowpool recently.  It is technically a garden and antique centre but I feel that description is way short of reality. 
It is a sprawling mixture of all sorts curios spread around rambling grounds with everything from old bikes and typewriters to fairground rides and crumbling angel statues.  All of which you can buy and take home for your garden.  There are also plant of course, and old doors, plant pots, archways, pillars, benches…. I could go on!
But this pales into insignificance compared to one thing: The Tea Rooms.   And with the tea there was knitting, yes really!!  I'll get to that in a minute.
The tea room is mainly outdoors in little huts and gazebos.  We were lucky enough to get one of the huts which was really cosy and had funny little tree trunk type seats!
As we were deciding what to choose from the menu there were all manner of huge plates and bowls of food passing by.  I expected these were to share and didn't for a minute think one of these would be put in front of me. 
I ordered Willowpool Dream Delight – cream, strawberries, creme Anglaise and crushed meringue.  Wow it was massive!  I like my grub but there was no way I could have managed to eat all of it and even Caveman couldn't finish it after his own cake.
They also used the most charming mismatched china with lovely teapots and tea cups.  I feel inspired to start a new collection!
Now, I'm sure you'll be wondering where knitting comes into all this.  Well, I'd been sitting at the table for about 5 minutes before I even noticed the cute little knitted sugar bowl cover!!!  So it was only a little bit of knitting amongst all the intrigue at Willowpool, but even the tiniest piece of knitting is still knitting!