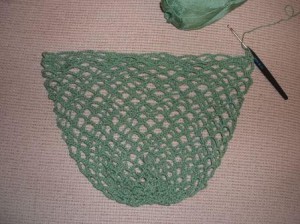 I love string shopping bags, hate paying for carrier bags and never remember to take reusable bags with me to the supermarket.  So here's something I thought I'd try and, hey, its working!
I looked at a few patterns for crocheting string shopping bags and decided to try this one from The Purl Bee.   I had already bought some Patons 100% Cotton 4 ply for this job, as  previously posted  when I had a bit of a crochet shopping binge, and it's finally time to give it a go.
Lo and behold, this bag is so easy!  Its quite a marathon task because after the first 6 rounds it is a completely repetitive pattern, but sometimes that's just what I need and enjoy – no thought required.  So far I think I am about a third of the way through. 
I haven't changed the pattern as such, but I am using a slightly finer yarn weight and hook size, so I think it's coming out a bit smaller.  Next time I may change to 9 or 10 chains in every link (instead of 8 in the pattern) or use a larger hook, but I'll see how the finished size turns out.  Also a little reminder – this pattern is from USA so single crochet is double crochet in the UK.
Unfortunately, I may not reap the benefits of my own work because I may generously give it to my friend Andy, who I am meeting this weekend, as he is a proper dippy hippy (his own words!) and loves all things homemade.  I am sure it will be appreciated, and I'd always be forgetting to take it to the shops anyway!