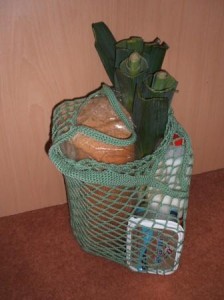 Yay… the string bag which I have been crocheting the last few days is finished! And its FAB!!  About half way through the same 9 stitches over and over and over again I thought 'this isn't worth it' but as I got nearer the end I was spurred on.
I don't think you can see it very easily in the pictures but I really like the way the handles are formed, by doing a couple of rounds along the top of the bag, then making chains the length of the handle and attaching them a little distance along the top.  You then do a few more rounds, going over the length of the handles.  Cool, eh?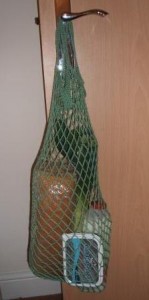 Of course when it was finished I just had to put some shopping in it to show it off.  And doesn't it look great, until you do one thing…
When it's got things in it and you pick it up it is sooooooooooo stretchy!  It is substantially stretchier lengthways than widthways and becomes very long.  Not quite to the ground, but nto far off it.  I don't know if that's because of the thickness of yarn and hook I used or something so I might try slightly different proportions next time.
But I do think its great.  Did I say I was going to give it away?  Wondering if I can go back on that if the intended recipient is unaware…
BTW, I was going to make soup with those yummy leeks but just couldn't be bothered tonight so maybe tomorrow.