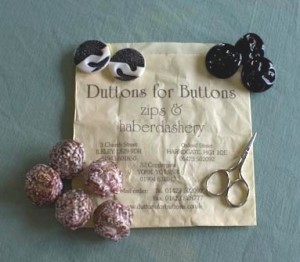 I haven't gone into this in much detail on here before, but I've got a bit of a thing about buttons.  Quite a big thing about buttons actually!
So imagine my surprise and delight, during my holiday in Yorkshire last week, when I stumbled upon a shop in Harrogate called Duttons for Buttons!   OK, it's true… I knew it was there.  In fact I was beside myself with excitement about visiting it! 
How heavenly is a shop with floor to ceiling buttons… big ones, little ones, blue ones, plastic ones, glass ones, silly one, kiddy ones, glass ones, stripey ones. 
In fact if you couldn't find a button to match your project here, it probably doesn't exist.
I decided that rather than buy buttons I could get elsewhere I'd get something unusual and that I couldn't easily get elsewhere.  So here is the little selection  chose.  I also got the tiniest pair of scissors.  Ideal for trimming little thread ends.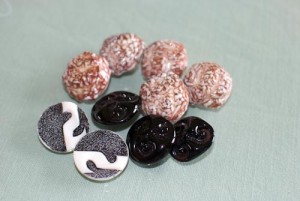 The dark purple and the black and white buttons are glass and very pretty asnd unusual. Unfortunately you can't see the purple too clearly but they have a lovely swirly shape in them. 
The black and white ones are very unusual and have a delicate feel, but they're not fragile. 
As for the brown ones, I just thought they were so unusual and look like macaroons.   I think they will look great on a chunky knit.
Maybe one day, if I'm feeling brave, I'll show you my button stash!