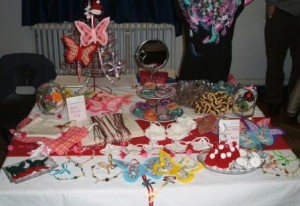 This time last night I got home after my first ever craft fair, and was very glad of a seat and a cup of tea!  It was lots of fun and an interesting first outing for frou-frou!
The event was described as a having Craft and Gift stalls and overall there was actually very little craft and mine was one of only 2 or 3 with handmade and crafted items.  In fact, many stalls were (cheap) wholesale jewellery and hair things.  I don't want to be too rude about them as everyone has their own reasons for being there, but it was hard to sell many of my things when there were trendier, cheaper and more sparkly things all around.  
After the cost of the table fee I didn't come out with much, but it wasn't about the money and at the end of the day I had my first experience of selling things I have laboured over and loved for a long, long time – and that was a great experience.  I think I learned a lot of what is most popular, and that is the cutesey and pretty girly things, in particular the butterflies and button hearts. I also think that an actual 'craft' fair would be much more appropriate for me and my goodies.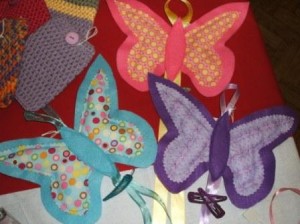 One thing I did realise is I need to add some more interest to my stall display.  I did have a few display items, but these were all at the back and quite tall.  The cake stand and sweetie jars worked well too, but the rest was very flat.  Also, because there was quite a lot of colour it all looked like quite a jumble, so maybe some streamlining would help too, or more colour themes.
Caveman was a great help as shifter, carrier and chief packaging operative!  At one point he said 'You know, you're really good at this' which was a relief and lovely words of encouragement!!  It helps that a) I LOVE to chit chat and b) I knew every stitch of every item on that table!  It is a strange feeling putting yourself  'out there', no matter how much you love your own work, it's a risk in how it will be received.
If you like what you see, or want to buy anything as I have lots of stock left, drop me a line via my contact page, or you may see them on Folksy some time soon. 
Thanks to my lovely chums who came along for support! xx
I'll leave you with some pictures…