Happy New Year to you!  I hope 2010 brings you good times, good health and lots and lots of craftiness.  Those are the things I dream of for the year ahead anyway!
I've had a busy couple of weeks with my birthday, Christmas, New Year, visiting family  and lots and lots of snow! I spent Christmas at home with Caveman then we went off to Scotland to visit our respective families and most importantly see my nephews and niece.  If there was one thing would make me move back to Scotland it would be them.
The weather was a real challenge, with near knee deep snow in places, frozen roads and sub zero temperatures at all times. The coldest I was out in was -9°c at 9pm one evening, so I can only guess how cold it got in the middle of the night.  Brrrrrrrrrrrr…
And now that the gifts I have made have been given I can share what I've been working on for the past few month or so:
A teal / green curly wurly scarf for Rhona: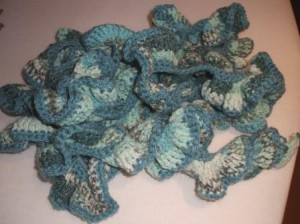 A flowery scarf for Jemma (a fellow crocheter):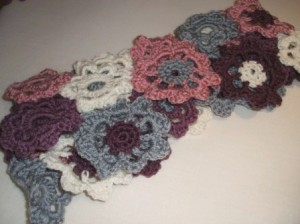 Button heart for Rhona: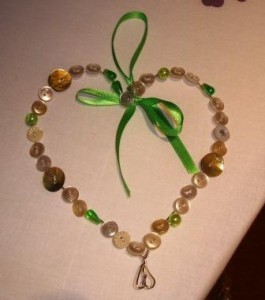 Spiral brooches for a few people, in different colours: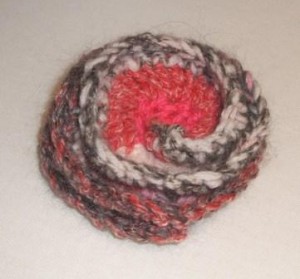 A 'made it up as I went along' bag for Lucy (age 5 ¾):
with a sherbet scarf to match:
A butterfly hair clip holder for Lucy: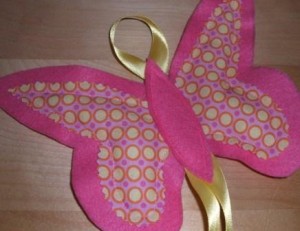 The sherbet and flower scarves are variations of patterns from my favourite crochet book The Happy Hooker, about which I have lots to write at a later date.
I hope all your crafted gifts were well received, and maybe you even received some yourself too.