Remember way back early in January when I said I had lots of babies to make for…  well the babies are all here now and the makes are all completed! 
My friend had Jimmy last week and I can't wait to see them to give them the blue blanket.  The day after Jimmy was born my lovely sister in law brought us Erin!  We were all so delighted, and in truth a bit surprised, to have another girl in the family as there had been some of expectation of a boy (I already have 2 nephews and a niece).   We all love the name Erin, which we didnt know was in the shortlist, and it is particualry appropriate as my sister in law is very proud of her Irish heritage and Erin means Ireland.  However, my nephew James won't accept he's got a new girl cousin and insists on calling her Tom!
I had been in Scotland all week waiting for her arrival and she came the day before I had to come back to Manchester – good timing as I was getting twitchy I may miss her altogether!
My sister in law really loved the blanket I'd made Erin and it has been much admired.  I do love that thrill when people complement my work!  It makes it worth all the hours of work that have gone into it.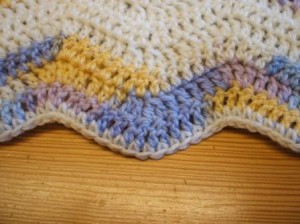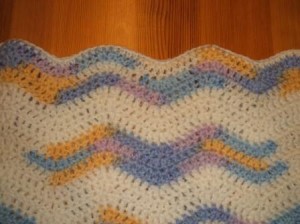 We didn't know Erin was going to be a girl so I erred on a neutral coloured and I am really pleased with the finished result.  I know my family look at this site and I wanted the blanket to be a surprise, so I am very excited about posting the pictures now.
A few days before Erin was born I had saw three magpies, TWICE!  I am not superstitious, but we all notice things like that don't we?!   I was looking up the full words of the magpie rhyme and found a few versions, but I liked this Yorkshire one best (sorry, last line is a little cheeky):
One for Sorrow
Two for Joy
Three for a Girl
Four for a Boy
Five for Silver
Six for Gold
Seven for a tale never to be told
Eight you Live
Nine you Die
Ten you eat a bogey pie!
Anyway, if Erin's Mummy and Daddy say it's ok, I'll post a pic of her snuggly wrapped up in her wavy crochet cuddly blanket!