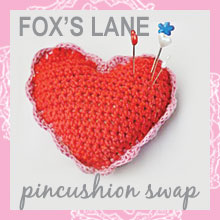 I've never taken part in any craft swaps before but I came across Foxs Lanewhere Kate has organised a pincushion swap.  I thought this was perfect as its a little project that is going to be easily postable, not too time consuming or expensive but one that still allows lots of creativity.
The pincushions can be knitted, crocheted, patchworked or sewn.  I am so excited about making mine for my swapee, who I believe does not know who I am, so no more info for now!! 
I am currently gathering ideas and will start work as soon as next weeks craft fair is over to get my make sent off by the intended date of 16th April.  And hopefully soon after that I will receive a treat in the post too!  How exciting!