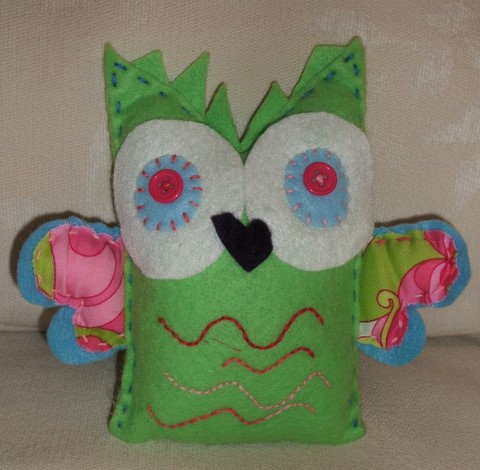 Ooooh the cutest little owl arrived on my doormat at the weekend.  All the way from Idaho from Tracylea at Homegrown Insanity as part of the Foxs Lane pincushion swap.
He's so cute – I love owls and I love colour so he's just perfect.  (Yes, I do think he's a 'he', don't ask me how I know, I just do).  Tracylea makes lots and lots and lots of owls but this is her first pincushion so I am very privileged to have him.
After mailing him ages ago then him being returned to her, Tracylea was rather concerned that he wouldn't make it this time again, but he has and I am very happy that he's now found a safe home.  Big thanks to Tracylea for making him for me.
I emailed Tracylea to say he'd arrived and that it didn't feel right to stick pins in him, but as she rightly pointed out he was made as a pincushion so he should be properly used.  As a result, I have now put him to good use.  Tracylea stuffed him with steelwool as she'd researched that as a good pincushion stuffing to keep pins sharp which is a great tip I haven't heard of before.
Tracylea included some pieces of my favourite types of fabrics in my parcel too – cotton prints.  These may become lavender bags – my fave make of the mo!!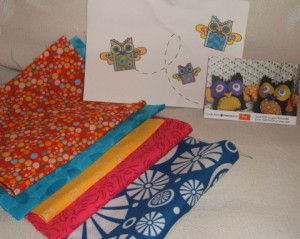 Now, all I need to do is work out why Anka's pincushion hasn't got to her yet – its now been a month since I posted it and I fear it may never arrive – and then this swap will be complete!
p.s. I just noticed when looking at the preview of this post that the owl's colours match my website colours brilliantly!!!