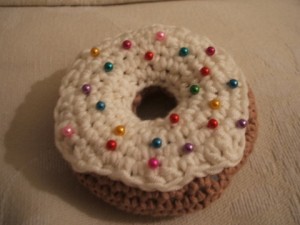 Some things just take a long time to come to fruition and for Anca there was a long, long wait for her pincushion swap, but she sent me a very excited email this afternoon saying 'My pincushion is here!'.
The first pincushion I made for the Fox's Lane Pincushion Swap aaaaaaaaaaaaaaaaages ago disappeared somewhere in the postal system and Anca, my swap partner and I were both really, really disappointed.  After exchanging several emails about where it could be I downloaded a claim / complaint form from the Royal Mail.  While it is possible to report it as missing, it is virtually impossible to claim for the lost contents.  They want receipts for everything: how is that possible for hand crafted items I made myself.  I'm not at all bothered about the money side of it, but the principle of that makes me more than a little gggrrrrrrrrrr!
Anyway, I couldn't possibly leave Anca without a pincushion, so I made another one and I didn't tell her I was sending it!  Sneaky huh??  I posted it 'international signed for' so it was receipted and tracked from door to door.  I wasn't taking any chances this time!! 
I've already written up details of themaking the pincushion itself but now that I know the second pincushion has arrived safely in Bucharest I want to reveal all the details of my side of the swap.  I wrote up a post about 2 months ago in anticipation of the pincushion parcel arriving with details of all the little goodies I sent Anca and I still want to share those, despite them disappearing, so the rest of this post is from that original draft:
I was very excited when I first looked at Anca's lovely website Happy hang around and started thinking of what I could make for her.  She has a coffee shop in Bucharest so I felt a donut pincushion was just perfect.  Coffee and donuts are a perfect combination in my opinion.
The other exciting thing about Anca is that she LOVES owls – more than I do I think.  Therefore, I just had to send her a few little owley things.  I found the pattern for lovely little owlets at Littlegreen and although this one I made has slightly squinty eyes I love its cute and homemade look.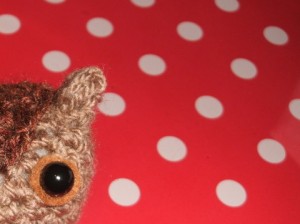 I really enjoyed choosing and wrapping up the little parcels to send to Anca, a complete stranger apart from what I'd read on her website.  The knowledge that I was able to make and chose a few little bits and pieces as treats for a stranger was very exciting.
Anca also loves postcards and is part of a postcard exchange called Postcrossing.  I chose the best of a rather poor selection of postcards of Manchester to send.  Apart from Manchester United Football Club there aren't really any particular landmarks that make Manchester instantly recognisable unless you already know the city, so I just chose one with pictures that seemed to be taken in this century.
To complete the package I got a few little owl stationery things to send too.  I love stationery so it was fun chosing them.
Many, many thanks to Kate at Fox's Lane for organising this swap.  You can see some of the other gorgeous pincushions made for the swap in its Flickr group.  It's been the first I've taken part in and I am sure it won't be my last.  Maybe I'll even organise one myself.  I have an idea of what I'd like to swap so let me know if you are interested and I'll keep you posted.
The original whole swap package (sadly missing!):