I've been after a new crochet project.  A big project.  Something to get my teeth into.  A blanket sized project to be precise.  And as if by magic Lucy at Attic 24 has started a granny stripe blanket hook-a-long just at the right time!  A lovely colourful yummy stripey granny stripe blanket!  Perfect!
The yarn is Stylecraft Special double knit which is 100% acrylic.  I've used similar before and it is a good practical, easy to work with yarn.  It's also great value and comes in loads of colours!
So far I've made only a couple of minor changes from Lucy's instructions.  I ordered a couple of slightly different shades of yarn, as I'm not keen on an awful lot of blue and there was a lot of blue in Lucy's shade selection.  However, there were a couple of balls out of stock so I'm waiting for 4 to follow to complete the selection below: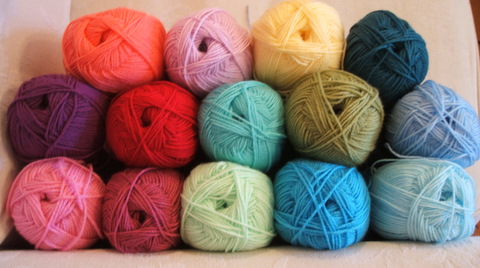 I'm also using a 4.5mm hook.  I just wanted it to be a little thicker and bigger without having to add more stitches.  This will use a bit more yarn but I have a extra to start off with, when the remainder comes.
Look how much I've done so far…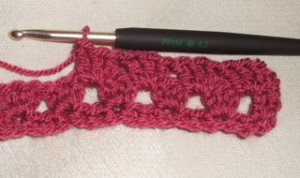 Well, I only started this evening (and you can't see from this picture that it's actually about 2metres long)!!
There's just one thing I don't understand.  Why did I buy this bright orange yarn?  It doesn't match, it wasn't in the recipe and yes, it did look this shade on screen!  Words fail me!  Needless to say it won't be going in the blanket but if you need any hi-vis crochet, give me a shout!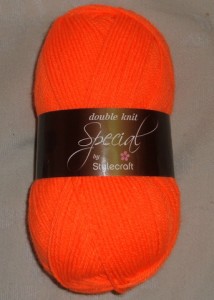 Now that I've got plenty of crochet to do, I'm away to get on with it!