I'm always impressed, and more than a little jealous, at the remarkable 'finds' that people find:  beautiful old crockery, immaculate hand embroidered linens, colourful vintage glassware!  I never find anything.  Until now that is!!!
On a recent incredibly hot day Caveman and I stopped at a local ice cream parlour (don't you love that term? 'ice cream parlour' it just conjours up images of the 1950's for me) which was next door to Wowie Zowie.  It's a great retro shops which sells, in its own words, 'fabulous vintage things from the 20th century and beyond…'
And look what I found!!!
Can you believe I walked right round the shop once before I spotted this!!??  It's a really beautiful old cantilever sewing box.  It is in brilliant condition and even inside the drawers are really clean.  Although I am very untidy, I do love places to keep things, even if I don't always put things in those places!
This is a great little piece of furniture, beside the settee, to hold all my little bits and pieces of sewing and crochet equipment which do need to have a place.  These are actually the things that I am good at putting back because I find nothing worse than getting into a piece of work and needing a thimble or a particular type of needle and not being able to find them!
I might line the drawers with pretty paper just to add to the delight every time I open them and I am yet to fill it up.  Maybe that will be a gradual process as I use it.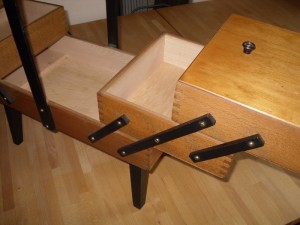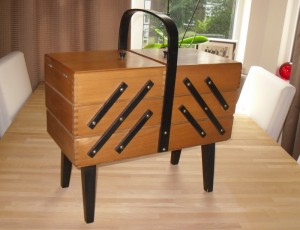 I've had a very busy few weeks with lots and lots of housework and organising because my sister and her two kids have been to visit this week.  We had a fab time wit lots of icecream, laughing and fun.  They left on the train yesterday and I was more than a little sad waving them off.
Also had an (unsuccessful) job interview which took up a lot of time in application and preparation so still somewhat disappointed after the amount of energy I put in. 
I have found a plenty time between those activities to crack on with the granny stripe blanket and I am really enjoying that.  I have found it goes particularly well with Wimbledon and World Cup!!! 
So back to normal now with nothing major on the horizon for a while but it gives me some time to get on with some making and doing.  The other benefit is that I now have quite a tidy house, which really isn't normal (that table top in the pictures is normally covered in sewing machines and related paraphernalia), and might help keep my mind a little straighter.  Hopefully I will be able to keep it up.  Time will tell…