This week I have been feeling skippity because of:
Meeting my brother Mike, Kelly, Luke and Erin for dinner when they were on their hols
Giving Lisa a crochet lesson
Passing 4,000 hits on this site in the same week that I had more hits on one single day than ever before.
A couple of reminders of my love of typography, from Anka and the BBC.  However, I have to say, the BBC article has the title 'Do typefaces really matter?' got my pip a little!  It was perhaps meant to be a rhetorical question, but I felt it makes it rather dismissive of the subject!
Two parcels: one rather hefty and one teensy tiny but both filled with gold:
A massive bundle of Granny Striple Blanket Yarn from Masons (who I can't recommend highly enough: great value and loads of colours and flat delivery charge of £2 and arrived 36 hours after I placed order.  Brilliant!!)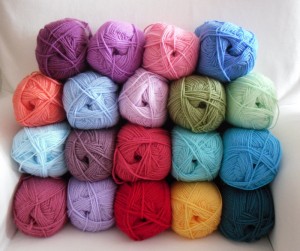 and lots of yummy scrummy good enough to eat [joke] buttons from Paper & String: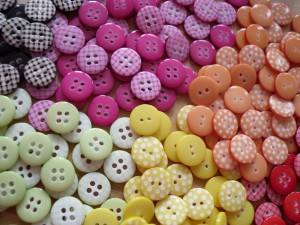 Wishing y'all a happy week ahead xx