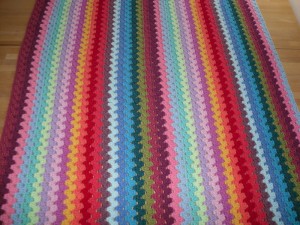 I've been a busy bee getting on with my granny stripe blanket and really, really enjoying working on a relatively zero thought required project.  Since my last post about it I've now completed the second round of each colour and started on the third.
I keep changing my mind about which colours I like best, with a view to those that I can use as an outer border when all the stripes are finished.  At present I am really liking the moss green and raspberry shades that are in the middle of the picture above (perhaps with a lighter one too), and these are the first and last colours in every round.  I also love pink and green together – hence the colours of this website!  However, no doubt by the time I get to the point of starting the border I shall have considered every colour combination available!
And then there are all the loose ends…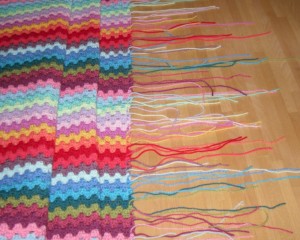 Two ends for every single colour change to be precise!  That's over 80 so far!  And guess what… I haven't sewn a single one in yet: shame on me!!  I will do some before I get very much further.  Promise!
I am starting to get a bit concerned that I will run out of yarn before the blanket is the size I want it to be so I have done some weighing and calculating.  With one ball each of 19 colours at my present rate I will end up with a blanket approximately 170cm square, before I put any border on it.  I think I will prefer it rectangular so I will be getting some more yarn.  Each stripe uses around 20g of yarn (remember I'm using a 4.5mm hook).  I'm going to aim for 7 repeats of the stripe rounds so another full set of yarn will give me plenty to do that, complete the border and have plenty left over for a few cushions. 
On the basis of 7 repeats I'm about a third of the way through so far, and thankfully its still a pleasure to work on.  I am likely to start getting a little distracted and working on a few other bits and pieces now and then before this is finished, but its a great make and I can't wait until the colder days (did I really say that) when it's finished and I can use it.
Caveman and I have just booked a week away in late autumn to our favourite Yorkshire cottage so my aim is to be finished by then.  A while off, yes, but these things can't be rushed!