Oh dear, late again!  But I've got a good excuse, honest guv!!!  Got back from my hols yesterday to find I have en extremely on again / off again broadband service.  Thankfully it's having an 'on' moment!
I lots of happy stats from the past week, aren't I lucky!!
I had an amazing week in Scotland visiting my folks. 
I was able to spend their birthdays with my 2 nephews birthdays which made my break extra special.  James turned 4 and Luke turned 3.  And, yes, there was birthday cake!
Getting home after my week away.  Much as I love getting away and seeing my family, there is no place like home and , more importantly, my own bed.
Surviving my first day back at work.
Finally getting round to starting the cushions I wanted to make with the yarn I bought from my Hobbycraft winnings: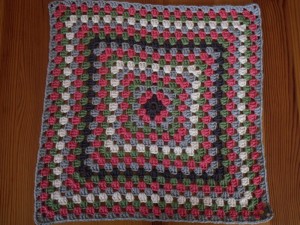 Working out (in my head at least) how I can finish the aforementioned cushions so that I the covers are removable.
Spending time with Caveman in Glasgow and laughing at him (in a nice way) getting all sentimental and feeling old because of how much it's changed since his student days there, 20 years ago!  Here's a picture I took of the University: