Two of my buddies from work are getting themselves a Civil Partnership this week and I wanted to make them a little gift to celebrate.  I have settled on a set of my super cute little apple coasters which are a real favourite of mine and have been really popular with everyone who has seen them.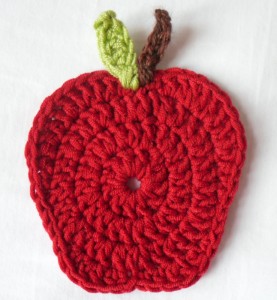 I got the pattern from a booklet in a magazine earlier this year (sorry, can't remember which one) and they are really simple to make.  The basic shape is really simple as it starts off as just a few circular rounds then the last one makes the curvy apple shape with a combination of slip stitches, doubles, half trebles and trebles.  Simple but very effective in my opinion!  I have tried to adapt the basic pattern to make a pear shape too but haven't quite mastered that yet, but it isn't far off.  I'll share pics of that if I ever master it.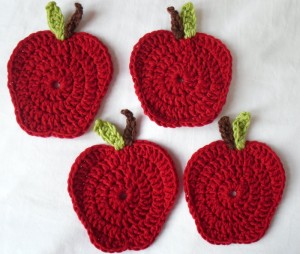 And in case you're wondering, all the rubbishy stuff is still going on, but I have decided that as crafting and blogging are what keeps me sane and clinging onto the planet, I am not going to let them be affected!