So it's been a tough few weeks.  I'm not even going to pretend that I've had a happy skippy smiley time and been away having fun.  But a few corners have been turned and myself and others are starting to get back to 'normal'.
Family wise there are things going on which won't be over soon.  But it's these times that remind me why family comes first.  First, last and everything in between actually!  And they always will.
As for work and pending redundancy, well… time will tell.
I wanted to record a few happy things as from the past few days so welcome back to Happy Stats:
Having my say!  As part of my redundancy (or any redundancy) there is a consultation period before any final notice is given.  It's a chance to give feedback on the situation, its impact etc.  Well, I had a lot to say.  Sometime there are advantages of being very pedantic.  I'm a stickler for policy and procedure, but also for fairness.  After several days of crying, I spent the last few weeks researching, thinking and getting my head round things and this past week its all come together into really quite a harsh report that I submitted at work last Friday.  Now that it's out of my hands I feel a combination of relief and apprehension.  But as I said, time will tell!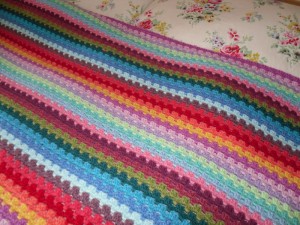 My new Cath Kidston pillow cases.  They make me smile to myself when I lie my weary head upon them. (Look, you can see them in the pic above!)
Preparing a guest post for someone else's blog!  Ooooooooh, fancy that!
Starting to plan my Christmas makes, and receiving orders to make other people's presents too!
Oh Comely magazine!  Fantastic, witty, stylish and quirky. GO BUY IT!  I can't put it any plainer than that!  (If you read Issue 2 come back and tell me how much you laughed at the article about posting things in the mail!  I cried laughing!)