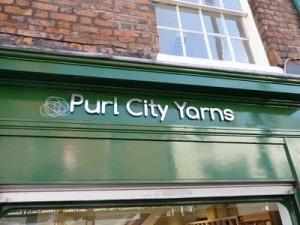 I first heard of Purl City Yarns a few months ago when its creator, Charlie, had a request on Ravelry for yarnie folks in Manchester to answer her questionnaire to help her get funding and develop plans to open a yarn store in the city.  Believe it or not Manchester does not already have a yarn store that stocks artisan and less 'mass-market' (for want of a better word!) brands and it has been very much needed.  I, like many others, buy yarn online or when out and about elsewhere when I see lovely things.  Online is great, but I do like to touch, see and smell the yarns (OK you may think smelling them is a bit weird, but don't judge me on that!)
Now don't get me wrong, I'm not a yarn snob and firmly believe there's room in the market for all sorts and us yarnies love nothing more than a practical bargain yarn.  I personally use a lot of them for projects that need to be easily washed and used and washed and used over and over again.  Especially good for kids things – baby milk and hand wash alpaca are never a good mix!!! 
So back to Purl City Yarns!  The shop is in the Northern Quarter in Manchester and is opening very soon.  I'm quite sure I'm not alone sitting on my hands to stop myself buying yarn elsewhere until its open.
They will be stocking some lovely brands and accessories – here's a list from their website:
Stock is growing and the shelves are filling up:
I am really looking forward to having a yarn 'community' locally with the associated groups, courses and events.  I have a growing number of friends who share my passion for making and doing and I am sure we shall enjoy spending some time browsing the shelves of Purl City Yarns and no doubt spending some £££ too!!
I love the look of all the yarns that are coming but my favourite has to be these Natural Dye Studio yarns – these are all the colours that float my boat!
However, after my recent experience of getting Caveman to hold a skein for me while I wound it into ball I may have to rope in some other help for that task!!!
Fancy checking out Purl City Yarns yourself – opening day is 12th October and here's all the info you need to find or contact them:
62 Port Street, Manchester M1 2EQ
0161 425 3864
http://purlcityyarns.blogspot.com/
Maybe see you there!!!
I'll leave you with some more of PCY's own pics of their yarn (all pics in this post are theirs).  I LUUUUUURVE this first one – pink and green is my fave colour combination, hence the colours of this site: