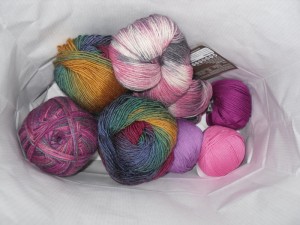 It only opened on Tuesday this week, but my friend and I have been to Purl City Yarnsalready!  Ok I'll be honest – we went the day it opened!  We just happened to be free after work that day, I'm sure you understand!!
I didn't go TOO mad with my purchases and I do have plans for all of them:
Austermann Step (bottom left): fingerless gloves for presents – this yarn contains aloe vera and jojoba – yum!
King Cole Riot (the two balls with yellow in them) – more presents – the Circles scarf from current Inside Crochet magazine.
Austermann Grande (the 3 balls in pinks / purples) – I love smooth glossy yarn like this for bracelets and necklaces and these are popular at craft fairs.
Araucania (pink / grey) – this is to make a cosy hat just for me!
I can't wait to get cracking on new projects but my list of 'to do's' is growing and unfortunately hours in the day do not increase!  Ah well!