As if by magic I'm now in Scotland to visit my family.  OK I admit it, not by magic, by car power!
I arrived here about lunch time and within an hour of being here I was off out with my sister in law, her mum and my mum for afternoon tea!  How perfect an arrival that was!
We went to The Butterfly and the Pig in Glasgow!  Great name yeah?!  I'd not heard of it until recently and what a find it is!  The tearoom is an absolute delight and the afternoon tea well, let's just say we were all very full for a long time.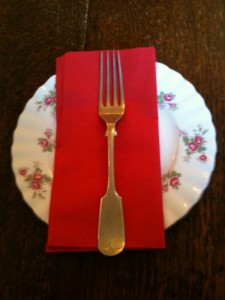 My favourite things about it were the mismatched crockery and old linens on the tables.  The decor and accessories are just my taste and I could have happily had all of it at home, although I probably don't need that many tea cups!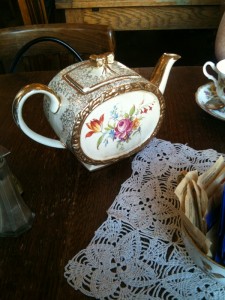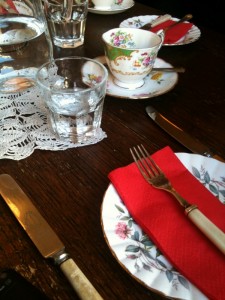 The tearoom itself has a great mix of dressers, wooden chairs, pews and mirrors.  We sat in a window seat under a sash window, with tweed cushions – a great place to watch the world go by too!
And what was the afternoon tea itself like, you may be asking!  Well, I think these two pictures answer that question!