I thought I'd share a few things about where I grew up as I am here visiting family at the moment.  I'm in a village in western central Scotland called Strathaven, about 20 miles south of Glasgow.  My family came to live here when I was 6 months old and I haven't actually lived here since I was 17 and moved away to go to university.
Fact Number 1:
You don't pronounce the 'th' in the middle of Strathaven!  You say it like this 'Str'aven'
Fact Number 2:
Strathaven has a castle!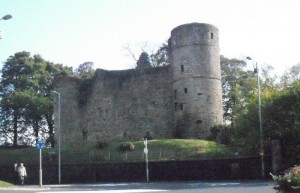 Fact Number 3:
A Strathvonian invented the purl knitting stitch!  Well this has been alleged!  It is reported in many sources, such as here and here, that Purlie or Pearlie Wilson invented it.  But it is also reported, here, that:
'James Wilson redesigned the structure so that the purl stitch could be utilized to eliminate the need for a seam. Local weavers bestowed the sobriquet, 'Pearlie' or 'Purlie' on him because of his clever modification. Long after his demise people wrongly assumed that he had earned his nickname by being first to introduce the purl stitch.'
Fact Number 4:
Harry Lauder, famous for songs such as 'Stop yer tickling, Jock' and 'Bonnie Hielan' Mary', lived out his later life in Strathaven!
Fact Number 5: (this one's my favourite!)
The local newspaper, Strathaven Echoes, has a column in every issue detailing 'New Books in the Library'!  Yes, really!!!  Have you ever seen that before?  Even more interesting… the newspaper office also doubles as an ice cream shop!!!