I am starting to discover advantages of being 'between jobs'.  Having time to myself during the week is enabling me to do the things and see the people I haven't had much time to spend on or with when work gets in the way.
Friday was just such a day when I went to see Kathy for come crochet and catching up.  About 2 years ago Kathy and I were both knitters and trying to find someone to teach us the basics of crochet, but didn't succeed.  We then, separately, discovered and took the day course at Fibre and Clay and have both spent a lot of time crocheting since then.
Kathy is a fiend for going to auctions and 'finding' things and has some lovely and interesting old sewing boxes full of goodies: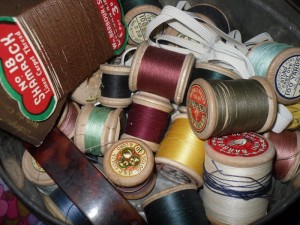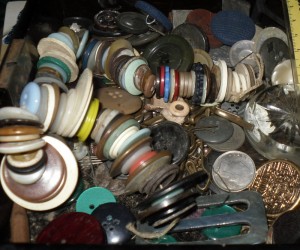 We were wondering if our sewing boxes will be discovered and drooled over in years to come when sewing and handicrafts have another renaissance!  I can't imagine so but I guess the women who had these boxes originally would have said the same.
We took Kathy's fostered (yes, really fostered) dog, Monty, for a walk round her allotments which was really an eye-opener!  I have never been on an allotment before and now I want want want!  As I live in a flat I have no garden and an allotment seems like a great idea.  However, maybe that's just a dream because I have time at the moment. 
Brussels sprouts, leeks and onions all getting big and tasty underground: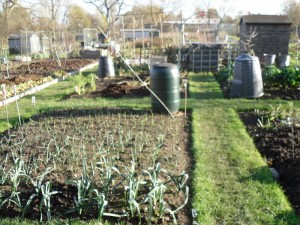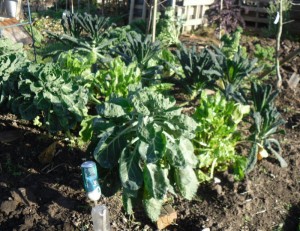 Back home we had yummy tea and toast and set about the inaugural meeting of our newly formed crochet group.  There are many knitting groups locally but none that just focus on crochet. Between us we know a whole 5 people who crochet and decided it would be great if we could get together from time to time to share ideas, skills, projects etc.  Maybe this will grow and along the way we will discover other people to join us.  Do you live in South Manchester and fancy getting together with other crocheteers?  If so drop me a line.  We don't have any definite plans yet but if we do develop I'll set up a Ravelry Group and take it from there!
So our first meeting was two members and a dog called Monty.  Great things from small acorns grow!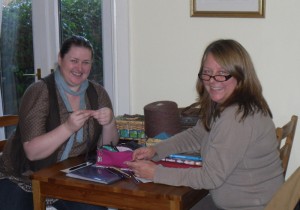 I want to finish with showing you just one of the lovely things that Kathy has in her home.  A little tawashi (Japanese dish scrubber) in the shape of an apple slice.  Unused of course, because it's just too darn cute to get dirty!!!