Good morning!  I've been up quite early this morning, which is reallynot like me!  I'm rather good at sleeping and particularly with everything that's been going on lately my sleep has been quite disturbed so I have been catching up a bit during the day.  I am a great believer in sleep as a healer!
I just realised that my last few posts haven't even mentioned crochet!  I still find it a little odd when I write about other things going on on my life and not primarily crafty things.  I'm not sure anyone's interested in them either, but I do quite like sharing the odd random other bits and pieces.
So time to get back to the crochet!  I've not been sitting here twiddling my thumbs without having a crochet hook in them. 
I have been making some more apple coasters, in green this time: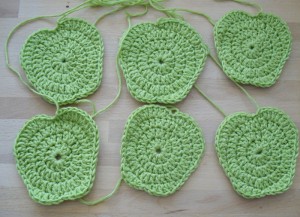 I've also started another circle scarf.  This is really an amazing pattern, I love it so much!  This one is again in King Cole Riot, this time shade number 400 which is blue, grey, green shades and is destined for a present!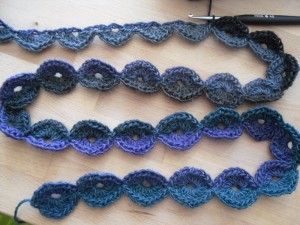 Now don't be alarmed by the word I'm about to use!!!  I IRONED the first circles scarf!  Have you noticed in the picture of the new blue one that each little circle curls in on itself?  The first finished scarf curled up like this along its whole length which looked funny and meant the lovely circles couldn't be seen properly. 
Ok, maybe I could have blocked it properly, but I'm very naughty and impatient.  I pressed it very lightly with the iron on wool setting, so it wasn't too hot.  It worked a treat!  The circles have flattened and overall it has a lovely more lacy feel, which I really like.  Here are a couple of pics of the very final finished result: