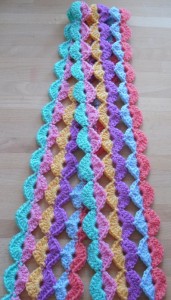 After seeing the beginnings of this, my second, circle scarf, my friend suggested it should be the 'Party Ring'  Scarf.  She's so right!!!  Do you know what Party Rings are?  Those brightly coloured round biscuits?
This scarf is for my 6 year old niece for Christmas and the candy colours are so bright and jolly, I just love them.  And yes, they are like yummy party rings!
For this scarf instead of continuing at the end of each row and working the next half of the circle, I changed colour completely, giving really quite dramatic colour mixes.
Does it make you hungry?  My sister has asked me if I can make a hat to match it.  Thank goodness for Ravelry!!