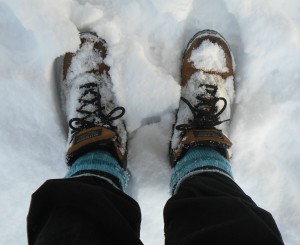 If you are in the UK it won't have escaped you're notice that Scotland and North East England are experiencing some very severe snowy weather are at the moment.  Guess where I am?  In Scotland right in the middle of it!!!  I have been here for a few days visiting family and on Saturday I left my Mum and Dads in Strathavento come to my sisters in Cumbernauld, planning to leave on Sunday to travel back to Manchester!  Well, that plan did not come to fruition.
On Saturday it started snowing and by Sunday morning there was about 12 inches of the white stuff.  Not always a problem in itself, as most of the main roads and motorways were clear.  However, my sister lives at the bottom of a very steep hill and it is the only way in or out!  I prepared the car and packed up my luggage and tried, with the help of my brother-in-law, to get it out.  It was pretty clear that wasn't going to happen!  So back we came to the delight of the kids, who are now off school as there has been about another 10 inches of snow overnight.  Looks like I might be here for a day or two to come yet.
There are worse places to be stranded than with your family who have heating, provisions and plenty to do!
Yesterday we played outside in the snow and had a lot of fun.  I can't remember when I last played in snow! 
We then got cosy indoors, watched Chitty Chitty Bang Bang and I got some crochet done.  Has there ever been a better excuse!!