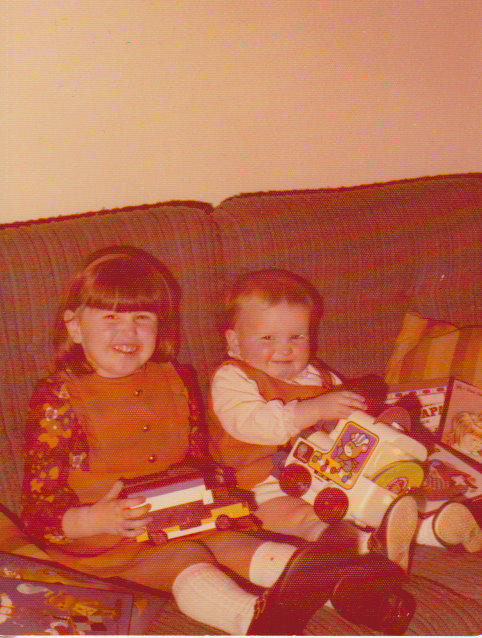 Hello and pre-Christmas greetings to you!  Hope the shopping, cooking, cleaning, travelling and wrapping is going well.
The picture above is my sister and I at Christmas time, I'm on the left.  I think that was Christmas 1975!!
I've not been around here much lately because I've been feeling a little out of the normal routine of things, for various reasons.  I have been enjoying some crochet but just not been writing about it.  This evening, however, Heather at Little Tin Bird shared lots of lovely details of her Christmas and invited others to do the same.  I thought it might be a nice post to get me into the festive mood and to get a blog  post out there after a bit of a sparse time.
So here is how a frou-frou Christmas shapes up:
20 Christmas Questions
1. Wrapping paper or gift bags?
Wrapping paper, mainly.  I am quite a fan of gift wrapping and love beautifully wrapped gifts.  I love ribbons, bows, pleats etc and everything has got to match!  In fact, the Christmas after I left university many years ago I worked in a shop which sold many pre-wrapped gifts.  I was so good at it that it became my main task in the shop! 
2. Real tree or Artificial?
Always artificial.  I have never, ever had another type and wouldn't know how to look after a real tree.  Don't real ones have lots of beasties in them?
3. When do you put up the tree?
Nowadays, my tree goes up whenever I am organised enough to tidy up, make space for it and get it done.  Unfortunately, that doesn't always happen at a set time.
However, as a child we always has a very strict routine, every single year for the tree.  You see, its my birthday on 18th December and the tree always got put up on my birthday.  Part of that was probably because my parents didn't want it up too early, but I loved it linked to my birthday.  If that was a school day my mum would have got everything out ready for us coming home from school to do it.
As well as that there were other linked birthday / Christmas traditions.  Firstly, boxes of Christmas crackers were always in boxes of 12 in those days and as there were 6 of us in my family (I have 3 siblings) we used to pull a set of crackers on my birthday.  It seems such a funny thing now but I always love my birthday dinner as a child.  Also my mum used to chose my birthday cards really early in December while the shops still had  their normal stock, before it was taken over by Christmas stock.  The cards were always put on a particular place when they were bought and it always made me smile when I saw them there.  My birthday cards stayed up in the house all over Christmas too.
4. When do you take the tree down?
I usually take it down and pack it away before I need to go back to work after new year.  By then the whole festive period seems to be over.
5. Favorite gift received as a child?
There are two gifts I particularly remember but to be honest I don't know if they were birthday, Christmas or joint presents.  They were a sewing box, which my mum still uses now.  And when I turned 13 I got a camera.  There are some very funny pictures of me taken on that camera (normally by my sister) such as this one below.  In case you are wondering, that's a paper bird on my head – I have no idea why but it probably made sense or seemed very funny at the time!
6. Hardest person to buy for?
In my family we don't buy for everyone any more, but we buy for my mum and dad and the kids in the family.  I think my dad is the hardest person to buy for because if there are things he wants, needs or likes he tends to buy them for himself.  He has lots of hobbies and interests so it isn't hard in itself, but finding something he doesn't have already is tough.
7. Easiest person to buy for?
Caveman is very easy to buy for, particularly because he loves lots of fun things, which I like to get along with a main present.  I also really like to treat my mum.  I try to give her things she won't buy myself as she is rather frugal and sensible!
8. Mail or email Christmas cards?
Mail! Simples!
9. Favorite Christmas Movie?
I don't think I particularly love any actual Christmas movies, but I love many that are associated with Christmas: It's a Wonderful Life, Meet me in St Louis, Wizard of Oz!
10. When do you start shopping for Christmas?
This year I feel like I was organised a lot earlier than normal but its normally during the month of December.
11. Have you ever recycled a Christmas present?
Haha probably! Although I can't remember details (or am I just being discreet in case people realise what I've done!!)
12. Favorite thing to eat at Christmas?
I am very naughty and eat a lot of rubbish at Christmas, normally.  However, I don't drink alcohol so feel a little redeemed! I normally have quite a sweet tooth but since I was a little poorly a few weeks ago I haven't got my appetite for sweet things back the same.  I like roast beef for Christmas dinner, and also love lots of cheese over the festive period.
13. Lights on the tree (colored or clear)?
Clear lights on tree.  I don't like colour overload and have a bit of a thing about matching colours, so clear lights allow me to decorate the tree with the colours I love.
14. Favourite Christmas song?
One of my faves, although I can't explain why, is 'It's beginning to look a lot like Christmas'.  It seems to be in my head at this time of year.
15. Travel at Christmas or stay home?
I love to stay at home during holidays, it's where I live after all!  However, my family, and caveman's, are all in Scotland so we will be visiting over the festive period: weather permitting!!!
16. Angel, star or ribbon on top of tree?
I always have a star on top of my tree, just because I love stars!
17. Open the presents Christmas Eve or morning?
If I could get away with it I would argue to open on Christmas eve, but that's purely because I am very impatient and hate waiting for treats or surprises.  I have to admit though that I never understood any time other than Christmas morning.
18. Most annoying thing about this time of the year?
I get really annoyed at how busy everything becomes!  Shops, parking, post office, supermarket! Goodness me it is crazy!!  There is also an associated rudeness which people develop too.  Chill people, it's meant to be fun!
19. What do you want for Christmas this year?
Without sounding ever so virtuous, which I'm really not, there's nothing I really 'want' but  I have seen some lovely things in the shops this year.  I am very lucky to have family and friends who know me very well and are very good at choosing well!
20. Traditional colors (red and green) or other colors?
My favourite Christmas colours are turquoise, silver and purple.  Not traditional I know.  Those are the colours of all my tree decorations.
So that's my Christmas.  Tell me about yours!