There's nothing like spending time with friends to make you feel better so that's exactly what I've been doing this week!
Have you been to see The King's Speech?  It's sooooo good!  It's really funny which I didn't expect and it's also really interesting.  I am fascinated by the period in history between the two world wars too so I really enjoyed that.  Colin Firth was brilliant in the lead role and I can really understand why he is winning awards for it!  Another reason why it was so good to go to the cinema this week… my friend had a free ticket so we shared the cost of the other ticket!  Bargain!
There's also been a bit of yarn shopping!!  I have been meaning to go to Black Sheep Wools, near Warrington, for ages and Kathy and I had spoken about going before Christmas but it was closed for refurbishment.  It opened again last week so off we went.  Oh, it's sooooo good!  (yes in this post everything is sooooo good')  It's really big for a yarn shop and has a really good range of brands, prices and qualities of yarn.  There are also lots of accessories and loads of embroidery and cross stitch things too.  I didn't go too mad – well, I'm a girl of limited means now aren't I!!?  I'll show you what I bought another time, but here's a peek in Kathy's bag, and some pictures of the shop: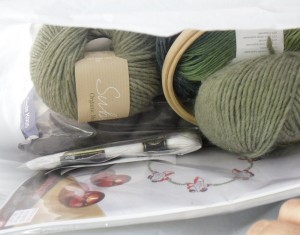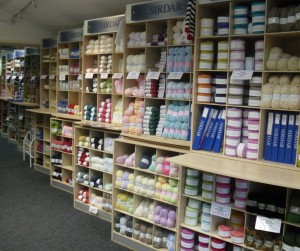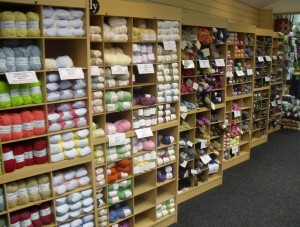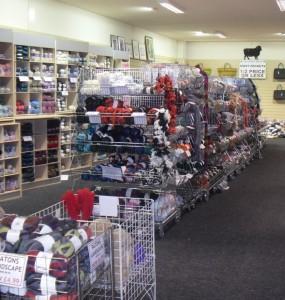 And then this afternoon there was cake!  It is my friend Jayne's birthday today so she invited lots of the girls round and had her 2 teenagers on tea and coffee making duty (I must say they did a sterling job!).  Jayne had made lots of cakes: the victoria sponge was sooooo good and absolutely delicious.  We all had a really good giggle!  In fact after a couple of hours we had decided to set up our own version of the WI and meet fortnightly for carrot growing contests, trips out, reading groups, exhibitions and crafts.  Mad but true!!!
Here's the cake: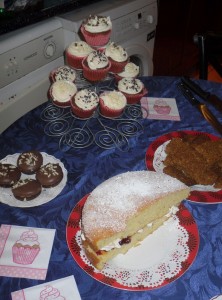 When things aren't feeling very good for me I can find it too easy to stay indoors and shut myself away.  That was fine when I still had to go to work every day, but now I could go days without having reason to go out.  I'm still not sleeping very well so not 100% but hoping that with a bit of time I'll start fully enjoying my time not working!  So long as it doesn't last too long that is!!