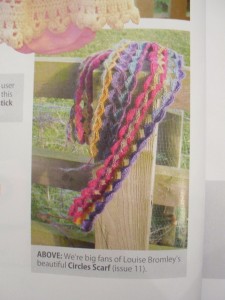 I was so excited a couple of months ago to get a message from Inside Crochet magazine to see if they could use my picture of the Circles Scarf I have raved on and on about in their Readers Gallery!  'Of course' I said!!!
Well today I bought a copy of Inside Crochet magazine, Issue 14, and turned first to the Readers Gallery.  There it was, my scarf picture taken on a fence post in Yorkshire on our hols last autumn!
The text said:
'Above: We're big fans of Louise Bromley's beautiful circles scarf (Issue 11)'
Louise Bromley?  That's not me!  But it's my picture! 
Ah well, these things happen.  I can still say my scarf was in the magazine!