Want to know a secret?  I'm very naughty!  I have never, ever made a tension square before.  When I knitted I didn't.  Since I have been crocheting I haven't.  Until now!
Thankfully I've never had a problem with stitch tension.  In fact I am rather proud, if I say so myself, at having what could be classed as a very standard and even tension and projects have always come out as intended.
So why start now?  The Crochet Club project I am just about to start isn't critical on size in terms of fit, but I have been soooooo impatient to get started it was a way to get started.  It also let me try out the yarn (Rowan Cotton Glace) which I really like!  It's quite a dense cotton that has really crisp stitch definition and isn't very 'splitty' compared to some other cottons.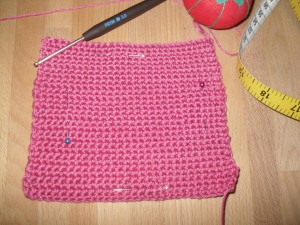 So how did I measure up?  The advised tension for this project is 21.5 stitches x 24 rows over 10cm square using a 3mm hook in double crochet.  I got 21 stitches x 25 rows.  I think that's close enough for jazz!