Just yesterday I wrote about a few crochet projects I wanted to get on with in the new year and I haven't wasted any time in getting started!  The granny stripe blanket that I began way back in sunnier days last summer has been sitting neatly folded but untouched for a few months – until last night.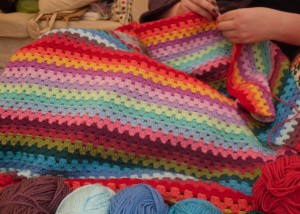 I was itching to get on with some crochet but not inclined to start anything new, or in truth anything that required a great deal of thought.  Resurrecting the granny stripe blanket was just perfect.  Despite it being quite large I managed to get several striped rows done while half watching tv: I am sure my treble speed has increased since I last worked on it.  I'm now about two thirds of the way through so it might just be finished before the spring / summer comes round again, so long as I don't get too distracted!
I have also been somewhat inspired by Ali at Snipsnaphappy!  She's said she needed a large and easy project she can work on without much thought so has started a granny stripe blanket.  She's called hers the 'Big Happy'.  Isn't that a great name?  And with so many lovely colours in blankets like this it can be quite hard to fight they happy that they can bring while hooking along.
Here's to lots of big and happy crochet ahead!!