Are you feeling that anticipation of a fresh, new year starting?  I'd love to say I was but I just can't get it.  Maybe it will come, maybe not.  I've never been the biggest fan of new year.  I tend to think if things are to change then why wait until a landmark date.  The last few months have been pretty tough for me and my family, and will be for a few months yet, so maybe our fresh start will be later in the year.
But until then there is still plenty to do.  There's always crochet and now that I have more time on my hands I will have more time to do the things I enjoy, which can't be a bad thing, can it?
So what will I be doing with that time:
I have signed up and paid up to be in Jane Crowfoot's Crochet Club, starting later in January.  I am really excited about this and can't wait to get started!
I am going to finish the granny stripe blanket from which I took an unplanned sabbatical for several months.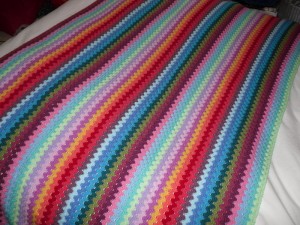 I want to get more involved in the crochet 'community' online.  I already read a lot of sites and blogs but intend to get more active and talkative.
Speaking of blogging, I fully intend to have a more regular presence right here.  It's my place in the crochet community after all, so I plan to use it!
I have a Folksy shop account, and I might just open for business.  Being unemployed now I will be glad of any extra funds I can bring in.
Oh, I will see if I can find time to get myself a job too!
I hope I see you somewhere along the way!   X X