I posted a while ago now that I was taking part in the Jane Crowfoot's Crochet Club for 2011 and I have been working on the pieces for this project.  I am a bit behind as I am still working on the January patterns and the February ones came out a couple of weeks ago, but I am sure I can get caught up pretty quickly.
Want to see what I've done so far?
These squares (there are 4 all together) are the corners and in the next stage of the patterns they are expanded to add more rows and beads!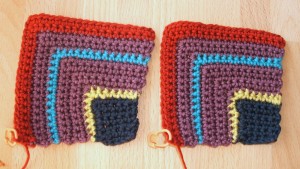 I really like this next piece – the shape is really nice and it was really easy to make.  I am really curious to see how a shape like this can fit into the final overall project.
I've struggled a bit with the piece below.  As you can see it's not lying flat and it becomes narrower as it gets to the top.  I may rip back half of it and use a hook 0.5mm up for the upper half.  There was a lot of discussion about this in the Crochet Club forums and I didn't think it would pull in the way it has, but hey presto, pulling in!!

I've not blocked anything yet and the pieces definitely do need it. 
As the overall project won't be seen until the very end when all elements are completed and joined together they all seem a bit of a random mix, although the colours all blend in a lovely way.  At first I wasn't too keen on the deep purpley shade, it seems a but dull and dusky to me, but it is growing on me now that I see it combined with the others.  It is the main shade in the whole project and there is much more of it that any other shade, so I do need to get used to it.
The yarn is mostly Rowan Cotton Glace which I haven't used before and I am really liking it.  The only problem I have is that for this project it's worked on quite a small hook, considering its a dk yarn, and I am finding it a little tricksy with the smaller size.
The patterns for the next stage are much more decorative with bobbles and beads!!!  I really need to catch up before the next patterns are out in mid March!