I know lots of people who are pregnant at the moment and it's making me twitchy!  No, silly, not my hormones!!!  My crochet hooks!!!
Whenever I hear of the patter of tiny feet my initial excitement for the happy mummy and daddy to be soon turns to thoughts of crochet opportunities and right now they are rife!
The things I love about making for babies are the colours, the delicate yarns, the anticipation for the expectant family and the appreciation with which home made gifts are received.
My friend Anne became a granny to baby Joseph just before Christmas and even though I don't know Joseph's mummy I have made him a cosy hat.  I based it very loosely on a pattern from Haakpoes for sizing and made a couple of alterations.  Instead of stripes I used one main colour (blue for a boy, of course) with contrast turn up brim and tassles.  I love the 'noodle' on Haakpoes hat but it didn't look quite right on mine so I added a few twists to the top instead.  The pattern says its for a 3-6month old but I have no idea what size a babies head is so I hope it doesn't only fit him in the summer!!  However, the way the weather is going here at the moment we may still have snow!!
Doesn't this look cosy? However, a strange phenomenon occurred, whereby the variegated yarn didn't variegate itself very well and came out in chunks of colour rather than stripes!  I think it adds something to the hat in a funny sort of way, as you can turn it around and have a different hat for every day of the week!
My sister in law, KellyAnn, and one of my closest friends, Mandy, are both due in the latter half of February so I haveplenty time to create some baby gifts for them.   I have already started work on a blanket which I am really pleased with.  I have wanted to tackle a ripple pattern for some time and a baby blanket seemed the perfect opportunity.  Lucy at Attic 24 has lots of beautiful and colourful crochet blankets to I tackled her Neat Ripple Pattern.  I had a few false starts, mainly because, as usual, I cut straight to the simplified version of the pattern without looking at the great walk through that Lucy had done.  Turns out I needed my hand held and when I had read it all fully it worked a treat.  Here's the work in progress: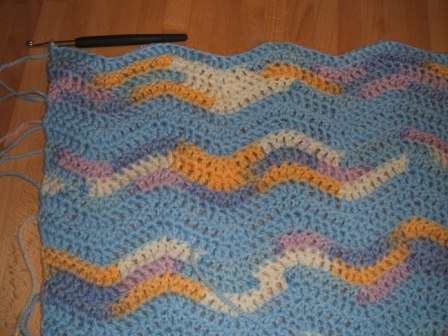 I'll add more pictures when it's finished.  Turns out Ali at SnipSnapHappy has been having the same ripply thoughts as me too!
It's worth mentioning here the yarn I'm using for these baby items.  It's one I picked in a different shade for a little phone case a few months ago and I really like working with it.  Its Patons Fairytale Colour 4 Me DK machine washable 100% wool.  It's labelled at double knitting but I beg to differ as it really does have a slightly thicker handle.  As a result I'm using a 5mm hook and that feels just right.  There are loads of shades available and its a great price (around £2.60 / 50g ball).