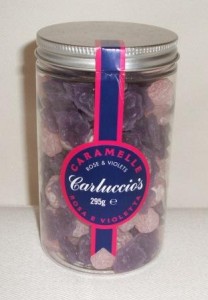 I LOVE sweeties.  And my favourite sweeties in the whole wide world are so luscious, decadent and indulgent that when I have a box of them I only eat one a week to eek them out.
Charbonel et Walker Rose and Violet Creams are the best, but embarrassingly expensive.  Every now and then I am given some as a present and I have to admit that once I even bought myself a box, which is the absolute height of indulgence.   They do, strangely, taste of flowers.  Not that I've ever eaten flowers, but how they would taste from the smell.
Imagine then my delight when I was given this jar of Carluccio's Italian Rose and Violet Drops for Christmas.  All the flavour and taste of my favourite chocolates in a jar containing 100's of them.  Why did I not know of these before now?  I get the flowery, sweet taste again and again and again without the guilt of them costing about £1.00 per bite!  And I don't mind that there's no chocolate on them!
So this evening I've got my PJ's and fluffy socks on, I'm crocheting and I'm eating rose and violet drops.  I would offer you one but they're mine, all mine!