Hello again! I've been a bit bad at blogging again haven't I!! I look back on last autumn when I took part in Blogtoberfest and managed to blog every day for a whole month and didn't resort (too much I hope) to writing nonsense. How do I get things back on track? No idea!
I have been busy though and that's one reason I have come back today. Last week I finished a baby blanket I have been working on and have presented it to its intended recipient and so I can now share the details. Well, when I say 'intended recipient' that's not quite accurate. The baby it's for isn't due for another 10 days yet but I won't see the baby's mummy for a while as I don't know when I will be back in Scotland in the next month or two. So when I was there last week I went to see Kerry, my sister in law's sister in law! Work that one out… my brother's wife's brother's wife!! (is that punctuaton correct – I'm not sure!)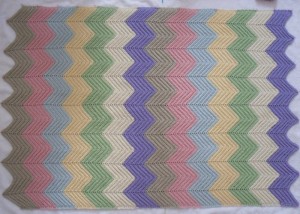 There are loads of rippley blankets around but I wanted something with a bit more of a well defined pattern, so I chose a zig-zag pattern and found one on on Caron which was just what I wanted. I used Sirdar Calico which has a lovely weight and finish and it is really easy to work with – not at all splitty. And the colours it's available in were perfect! Oh, probably most important for the end user – machine washable. In the end I used approximately 1 and half balls of each shade repeating each colour just twice. One of the things I really love about this pattern is the ribbed texture from crocheting into the back loop at all times. Also there is a little hole at the top of every zig (or zag?) which gives it an interesting finish too.
Want to see more? All of these pictures were taken when the blanket was pinned out for blocking. (more…)