In the mail today there was nothing scary and no bills! Just two envelopes, one large and one small and both with lovely contents!
The large one contained two things I ordered from Pavi Yarns earlier this week.  I am very jealous that fellow crocehteers across the pond seem to have so many more crochet magazines and yarns available to them, many of which aren't available in the UK (I haven't looked at shipping to the UK as I know that could be a slippery slope!).  However, I really liked the look of the Interweave Crochet Accessories magazine, published last autumn and found it was stocked by Pavi Yarns in the UK.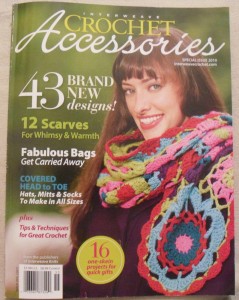 I have made this collage below of my favourite projects from the magazine, which are all shots taken from the pages, showing just a few of the really lovely patterns it contains:
How much do I love all of these projects?   LOTS!!  And I have to say these are only a few of man interesting and lovely ones included.  There is a great selection of winter accessories, including a few crochet socks which I have never tried.  I don't know which project I will chose first!!  Which ones do you like?  The only problem I foresee is matching UK available yarns with the patterns, but for most accessories this doesn't matter too much as size isn't critical.
Stashed in the envelope with the magazine were some tiny stitch markers that I have needed for a long time.  Until now I have used plastic split rings which really just didn't do the job adequately, so as a result I avoided using them and often relied on guess work!  Not recommended!  These little lockable ones by Clover look much more sensible!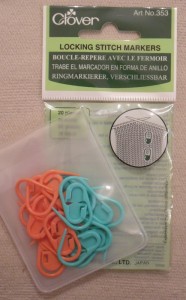 What was in the little envelope?  A homemade Christmas card with a beautiful crochet snowflake from my lovely blog friend Anca, at Happy Hang Around!  Thanks Anca xx