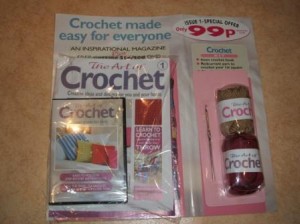 'Have you seen the new crochet magazine?' Everyone's been asking me!  I'd seen the adverts on TV and finally bought a copy of issue 1, a bargain at 99p (future issues £2.99)!  The patterns looked OK, a DVD to get you started, 2 balls of yarn, a 4mm crochet hook, gifts with future issues, extra gifts if I subscribe within 7 days, loose pages to slot into a forthcoming folder, squares to crochet every week to make a blanket, complete  in just 120 issues.  Perfect!  I mean, what? Wait a minute… how many?   
Now, I am not the most frugal with money [blush] but this didn't add up.  Well, it did actually… to £358.80!  Yes, you get all of the above, but thinking about it more closely it wasn't really so tempting.  I love the thought of crochet goodies popping through my letter box every week, but they send them in bulk every 4 weeks.
And the yarn is 25g of 100% acrylic.  I wouldn't expect a top quality wool, but a nice cotton would be more than passable.  The patterns look OK on the whole, the type you get in knitting and crochet magazines mainly.  I do think there would be some things I'd make over time, but certainly not all of them.
I love the idea of making a blanket with all the squares from each issue, and I have been tempted by Debbie Abrahams Mystery Blanket Club, but its knitting not crochet and I don't think I have all the knitting skills to complete it successfully. 
So shall I subscribe because it's another crochet thing to read and play with or shall I spend my £358.80 over the next 2 years on a couple of workshops, several crochet books, quite a few magazines and lots and lots of lovely yummy scrummy yarn?  Decisions Decisions!!