We've had a stay indoors at holiday home day today.  I am proud to say I didn't even get out of my pj's.  I love that sort of day at home so it was actually nicer on holiday where there aren't the other things you could be doing.
I slept really late, had breakfast for lunch then read, crocheted and Wii'd that afternoon away.
Want to see what I've been crocheting?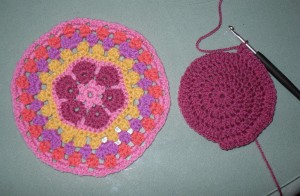 Alicerecently shared her tutorial for a potholder based around the African flower motif and I really wanted to give it a go.  Can you believe I've never made an African flower before?  It may become a firm favourite!  Alice combined this motif with her mandala pattern (which I am also yet to try) which she then backed with a plain flat circle and a pretty edge to make a gorgeous, multi coloured pot holder.
It's a great pattern and really straightforward and quick!  I am really enjoying making this first one and will probably make quite a few more before long.
Oh, I did venture outdoors to take pictures of the sheep today, but only to the front door step: