The current issue of Inside Crochet magazine has a scarf pattern that I really like the look of.  They call it the 'Circles Scarf' and it looks like its made up of lots and lots of individual circles joined together.  In fact its made in strips along the length that are joined in whole rows as you go along, not one by one, thankfully!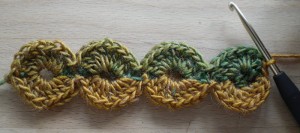 The recommended yarn is Noro Silk Garden sock yarn but I think it's not ideal as it's not cheap (unless making a really luxury gift or treat) and its also quite scratchy, as the pattern acknowledges.
On my first visit to Purl City Yarns this week I saw King Cole Riot for the first time which I really liked the look of.  It's great value (at £3.95 a ball) compared to the Noro  and has a similar look but much softer.  It wasn't available in quite the same shades, but the one I chose will suit this project quite well as it has many shades throughout it, dusky versions of primary colours.
The Riot is a double knit yarn, so I am using a 3.5mm crochet hook, just to make it a little more delicate than the 4.00mm would.
I am very naughty and never make tension squares!  I know many of you will be rolling your eyes now!  I have a very even and standard tension and rarely have a problem with tension.  Also I don't always make things where the tension is critical.  I can normally read pattern and get an idea of what is involved and how to approach it in my head.  However, the start of this pattern just did not register with me – I could not make any sense of it so all I could do was start the tension square instructions and follow each step quite literally to see it it became clearer!  Thankfully it did!!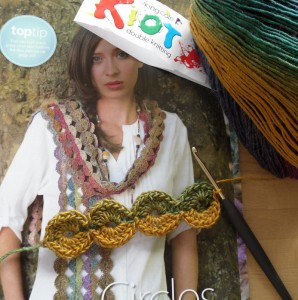 It was actually really straightforward, once I got going.  I did mess up the middle of one of the circles (look at center of one closest to hook in first picture above) but it will be fine when I do it for real.
I think this will be an easy pattern to follow now and I'm looking forward to churning out rows and rows of those circles in the days ahead!