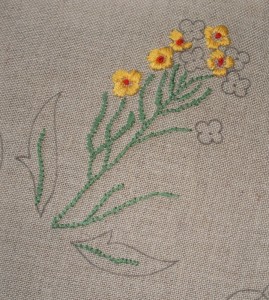 Since I have recently started embroidery, I wanted to find a project that would give me lots of practice on the main stitches.  I chose a tablecloth that has a floral pattern repeated around it, that uses mainly satin stitch, french knots and lots and lots of stem stitch.  So far I am particularly bad at the stem stitch so practicing that will be useful.  In some places I am also going to replace the stem stitch with split chain stitch or backstitch.  I think the overall look won't be affected and it will make it 'my own' a bit too.
I have also seen a few really nice sampler patterns around.  Not the very traditional 'home sweet home' type, much more modern than that.  There's a great and quite simple one by Sublime Stitching that I think I will get started on very soon.
I also received a fabulous parcel of purchases from Sublime Stitching!  More next time!!!