This evening I have been hob-nobbing with the artsy crowd at the opening of a new exhibition because my very clever chap has an exhibit in it.  Now before you get excited, we aren't going to live out our lives on the profits of his creativity, unfortunately.  He isn't, by his own admission, the most artistic person in the world.  But he does try, the love!!
Have you heard of the late, great Bard of Timperley, Frank Sidebottom?  He maybe wasn't an international superstar, but he was very well known locally and to some extent around the UK.  Well, Timperley is only about 1 mile from where I live and many of my friends were great fans of Frank, who passed away earlier this year.
Frank was often seen on local television and radio and had a famous 'Magical Timperley Tour'.  He was a massive fan of football and made tribute records to many famous Mancunian musicians.  He also had a sidekick called Little Frank, who was just made of cardboard.
As a tribute to Frank, Caveman threw together his version of his papier mache head and posted it on his Flickr as part of Project 52.  It seems that the curator of Frankophilia at the University of Salford, spotted this image and asked if he still had the 'head' and could it be included as an exhibit.  He has been rather sheepish about it, believing it doesn't compare with some of the 'proper' (his word) works of art on display. I think Frank would have been very happy with all of the items on display, which ranged from beautifully drawn paintings, embroidery, films and even a carved pumpkin, which I fear won't last the whole exhibition!  Oh, and the cardboard box with Frank's face on it, as first seen on Flickr:
It was good to be back at the University again, as I studied there part time for 3 years.  Unlike Caveman, I don't hanker after the past and I am glad not to be a student still.
The image below is one of my favourites from the exhibition and was painted on a wall in the gallery.
Here's to you Frank, it was great, it really was!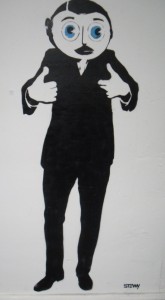 Exhibition in Chapman Building, University of Salford, Wednesdays – Saturdays, 12noon – 5.00pm, until 18th december 2010