the old man isn't snoring, because he's wide awake and sitting next to me!
But is it a dark and wet day here in Yorkshire.  Dreich as one would say in Scotland!
It's the last full day of our holiday today and although we didn't have an actual plan, the weather really would have put us off doing anything outdoors or driving too far.  Instead we had a drive out to some pretty villages, coming home via the supermarket to pick up some cake, something for dinner and to put petrol in the car for tomorrow's drive home!  Boo hoo!
Here we are once again cosy indoors with tea, cake and a log fire while the wind howls around outside.  We even pushed the boat out and made a pot of tea – now we don't often do that at home!  One of my lasting memories of our holiday will be this scene, pretty much as it was last year too:
I put this time to good use and finished the pot holder I mentioned in my last post.  I love these colours!  The yarn is the Stylecraft Special DK that I used for my Granny Stripe Blanket so I have lots of colours already and the point I am at in the blanket means I have a tiny amount left on each ball before I start a new ball so I am using up the little balls for bits and bobs like this.  Now here's a confessio!  I'm not sure if a potholder is meant as a pot stand, ie a trivet, or for lifting a pot, like an oven glove.  However, I am pretty paranoid about burning myself on the oven and hot dishes so I think I will continue to use my purpose made heavy duty oven gloves, and use this as a mat.  The thing I particularly like about it is Alice's little shell pattern around the edge: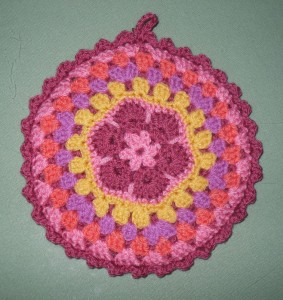 Sheep and crows to show you today.  The crows here seem move together in great waves, like a black speckled cloud!