I thought I'd show you some of the lovely owl things that I was given in the past few weeks for my birthday and for Christmas.
I'm a lucky gal as my friends and family are very good at choosing gifts for me that I love.  And I love owls!  Just look at all these lovely, snuggly, gorgeous owls: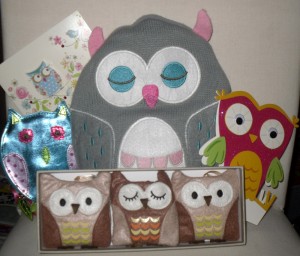 There's a hot water bottle in an owl cover, lavender filled owls and a bright blue owl purse, as well as the cutest owl cards.
I especially love the hot water bottle.  I'm a massive fan of hot water bottles and take one to bed on all but the hottest nights of the year.  I know that might sound mad, but I love to be cosy in my bed.
Now, while I'm on the subject of animals, there's another that I have a fascination with.  I can't in truth say its a love fascination, more like a strange curiosity!  Am I the only one in the world that finds pandas a bit weird?  Caveman gave me this hugging panda salt and pepper set:
They have such strange block markings and they bumble around eating bamboo shoots while looking really quite sad! 
If it ever came to light that pandas aren't actually real I wouldn't be at all surprised.  You heard it here first!