I've been getting a lot of lovely comments recently, particularly on Flickr, about the colours and colour order of the stripes on my granny stripe blanket.  It made me realise that I haven't shared what the shades or yarn are or what colour order actually is.  So here goes: 
1023 Raspberry
1061 Plum
1241 Fondant
1019 Cloud Blue
1422 Aspen
1316 Spring Green
1432 Wisteria
1390 Clematis
1084 Magenta
1081 Saffron
1132 Shrimp
1246 Lipstick
1083 Pomegranate
1067 Grape
1034 Sherbet
1003 Aster
1068 Turquoise
1062 Teal
1065 Meadow
All yarn is Stylecraft Special DK.
I chose to use a repeat colour pattern for this blanket as I like the order of that and if I didn't I would forever be scrutinising it to find combinations I am not happy with.  OK, I guess the other side of that coin is that you see lovely ones that hadn't been anticipated, but I won't think about that too much.
I haven't done any crafting other than the granny stripe blanket for ages now and I am quite enjoying having just one large project to focus on.  However, I have had a whole weekend off crochet which as dampened my spirits a little, particularly when I needed a bit of a lift.  I was finding that my right wrist was getting quite sore after I had done quite a lot of crochet this past week.  I have read many times about crocheteers and knitters who end up with wrist problems and I really don't want to have that.  So I rested like a good girl.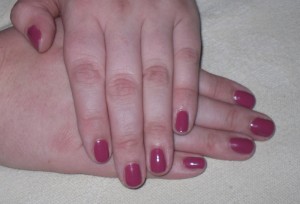 There is one, and only one, advantage of not crocheting!  It meant I could paint my nails!  How is nail painting linked to crocheting?  You may well ask!!  I love to have colourful painted nails but find that on the evenings I crochet I can't do my nails as they are never fully dried and set before I pick up my work and as a result I get dents on my polish.  If I leave it until after I have crocheted for the evening I get dents in it from getting ready for bed. 
It may be a minor thing in the scheme of things, but it always makes me feel a little cheerier!